Rabbi Manis Freedman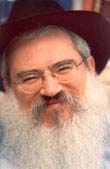 World-renowned author, counselor, lecturer and philosopher, Rabbi Manis Friedman uses ancient wisdom and modern wit as he captivates audiences around the country and around the world. He hosts his own critically acclaimed cable television series, Torah Forum with Manis Friedman, syndicated throughout North America. Over 150,000 copies of his provocative yet entertaining tapes, both audio and video have been sold.
Rabbi Friedman's first book, DOESN'T ANYONE BLUSH ANYMORE?, published by Harper San Francisco in 1990, was widely praised by the media. BLUSH is currently in its fourth printing. Following the publication of the book, he was featured internationally in over 200 print articles, and interviewed on more than 50 television and radio talk shows. He has appeared on CNN, A&E Reviews, PBS, and BBC Worldwide, and has been the subject of articles in the New York Times, Rolling Stone, Seventeen, Guideposts, Insight, Publisher's Weekly and others.
Rabbi Friedman is a noted Biblical scholar, recognized for his sagacious grasp of Jewish mysticism. In 1971, he founded Bais Chana Institute of Jewish Studies in Minnesota, the world's first yeshiva exclusively for women, where he continues to serve as dean. From 1984-1990 he served as simultaneous translator for the Lubavitcher Rebbe's televised talks.
Rabbi Friedman is a professionally ranked member of the National Speakers Association. His speaking tours take him to every part of this country as well as Israel, England, The Netherlands, South Africa, Australia, Brazil, Venezuela, Peru, Canada, and Hong Kong.
Rabbi Friedman was born in Prague, Czechoslovakia in 1946 and immigrated with his family to the United States in 1950. He received his rabbinic ordination from the Rabbinical College of Canada in 1969.
Rabbi Manis Friedman enthuses each of his listeners and readers with a sense of purpose and definite direction.
(taken from itsgoodtoknow.org)
Rabbi Chaim Rapoport
Rabbi Chaim Rapoport was born in Manchester, England in 1963. He attended the Yeshivot of Manchester, Gateshead, Torat Emet in Jerusalem and the Central Lubavitch Yeshiva in New York. He has an MA in Hebrew and Jewish Studies from London University. He has been head of the Leeds Kollel and served as Rabbi to the Birmingham Central Synagogue, England. In September 1997, he assumed his current position as Rabbi to the Ilford Synagogue, Essex, England.
In 1998 he was appointed as member of the Chief Rabbi's Cabinet and Advisor to the Chief Rabb, Professor Jonathan Sacks, on matters of Jewish Medical Ethics.
Chaim Rapoport is the author of several books and articles in both Hebrew and English. For the last three years he has also been a visiting lecturer at the London School of Jewish Studies.

Rabbi Eli Silberstein
Eli Silberstein is Rabbi of Chabad in Ithaca. He lectures on Jewish law at Cornell University and is currently at work on a book about Jewish law.

Rabbi Moshe Feller
Rabbi Moshe Feller, Minnesota shluchim of the Lubavitcher Rebbe since 1962, founded Bais Chana together with Rabbi Manis Friedman in 1971. Their firm belief in the power of Jewish women's education continues to motivate their commitment to Bais Chana's growth and development.
Rabbi Feller's enthusiastic Bais Chana talks are always inspiring; his insistence that practical action be fused with spiritual inspiration is his trademark message. Feller's obvious interest in each participant's material and spiritual welfare underscores his unique love for all fellow Jews.
In addition to the direction of Upper Midwest Merkos Lubavitch and its numerous outreach programs, Feller continues to serve as Scholar-In-Residence at Shabbat weekends all over the US; has opened the US Senate and House of Representatives more than any other clergy and has represented Judaism in the Oval Office at least ten times in the past twenty years. A native Minnesotan brought up with traditional Judaism, he gravitated toward the teachings of Chassidus as a young man.

Uri Kaploun
Lecturer of Chassidism at Mayanot Institute of Jewish Studies
M.A. (Education) Melbourne University. Since he and his family settled in Jerusalem in 1970 his time has been divided between teaching and counseling, translating and editing (for Keser, Macmillan, Artscroll, Kehot, and Sichos in English). In 1989 he lectured at the pioneering semester of the Center for Judaic studies for graduate students newly opened by Rabbi Adin Steinsaltz in Moscow.
(taken from itsgoodtoknow.org)

Rabbi Shmuel Lew
Director of Education at Lubavitch Foundation,, UK.
Headmaster of Lubavitch Senior Girls School , London

Rabbi Dovid Dubov

Rabbi Gancz