Rabbinical College of America Student Organization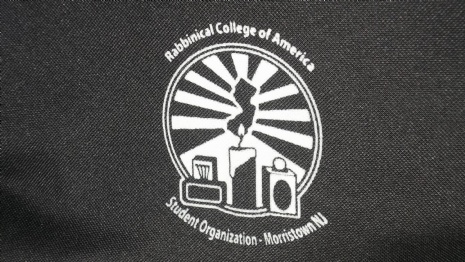 Yeshiva Tiferes Bachurim, a division of the Rabbinical College of America, announced the formation of a new community outreach program. The "Rabbinical College of America Student Organization" is a student run program that focuses on community outreach in Morristown and the rest of New Jersey.
The typical yeshiva students schedule is packed with learning from 7:30 am through 9:30 pm, Sunday through Thursday. In their limited free time on Fridays, students head out by car, train, bus and foot (or combination there of) into Morristown and throughout New Jersey in order to raise the collective spirits of the people that they encounter and even those that they pass on the street. The message is simple, "do one more good deed today." 
The Rabbinical College of America Student Organization (RCASO) was launched with a special Farbrangen (chasiddic gathering) featuring Rabbi Boruch Hecht, Director of Admissions at Yeshiva Tiferes Bachurim. At the Farbrengen, the students reflected on their accomplishments from the past year. They have calculated 1,341 mitzvahs (good deeds) since the academic year started in September.
Each student was given a bag, bearing the RCASO logo, and specially designed to contain weekly pamphlets, candles (used to light for the sabbath), holiday guides, educational tools and a pushka (charity box). The bags were all stocked and are meant to carry a pair of tefillin (phylacteries).
"Every student has a desire to reach out to members of our community, they just do not always know how," said RCASO Executive Director Jay Gutovich. "We wanted to create a method of educating and encouraging students on how to start this essential community work, and continue growing. We love meeting new people and seeing old friends. We try to bring happiness into their week, increase their spiritual composition and educate them about Judaism. Although we are a Jewish organization, we reach out to everyone, on their level."
The RCASO board is made up of: Moshe Bitton (Venuzuela), Simcha Evan Finklestein (Syosset NY), Alex Gumple (Ecuador), Jay Gutovich (Vancouver, B.C., CAN) and Elchanan Solomon (Venezuela). 
Keep an eye out for students around town and expect to see them in costumes for the upcoming holiday Purim. Purim is celebrated this year on March 7-8.
For further information, to sign up to benefit from the Student Organization or to connect with the students who visit YOUR COMMUNITY, email studentsorgrca@gmail.com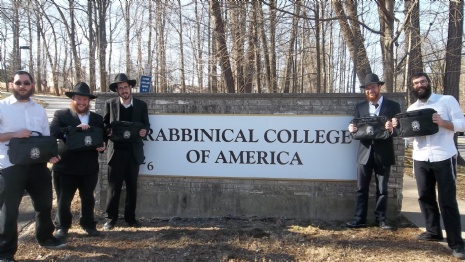 The RCASO Board (from L to R):Alex Gumple, Simcha Evan Finkelstein, Moshe Bitton, Elchanan Solomon and Jay Gutovich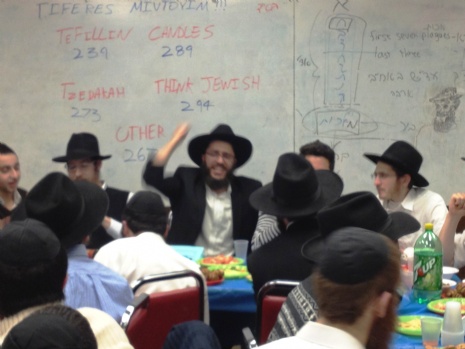 Rabbi Boruch Hecht, Director of Admissions, celebrates with, and inspires the students